COP28: What to expect from this year's annual gathering on climate change by Brent Barnette
As sure as December brings Mariah Carey, for the last few years, it has also meant that world leaders, climate activists, journalists, business leaders, civil society organisations, representatives from NGOs, and interested members of the public once again gather for another COP. And while all Mariah wants for Christmas is you, climate activists and world leaders, particularly those from Africa and the global south, are hoping for meaningful progress on the UN agenda for dealing with the threats and challenges brought about by climate change. With the objective of limiting global warming to 1.5 degrees Celsius above pre-industrial levels slipping out of reach, the push for financing meaningful support for the most affected and vulnerable communities is gaining greater urgency. 
For better or worse, COP is where the world comes together to try and agree on ways to address the climate crisis and meet the goals set out in the Paris Climate Accord. The 28th COP this year is being held in Dubai in the United Arab Emirates, and the parties will be hoping to find consensus on solutions to the many challenges facing the global community as the planet experiences year after year of ever-hotter temperatures. 
THE COP AGENDA
As at past COPs, the agenda this year focuses heavily on the development of technology solutions to help reduce carbon emissions, the financing of those solutions, and the financing of adaptive approaches to help those most affected by climate change address the after-effects of climate-induced disasters and disruptions.   
The 2023 agenda is organised around 32 thematic areas over 12 days. The themes included are broadly outlined below (with some of the specific themes from COP28 in parentheses): 
Fostering solutions to address climate change

(Innovation and Entrepreneurship; Climatetech Ecosystem Building; Technology for Climate)

 

Creating adaptive solutions for impacted communities

(Children; Gender and Inclusion; Youth; Industry / Just Transition / Indigenous People)

 

Financing the transition to a sustainable future

(Finance; Finance / Trade / Gender Equality / Accountability)

 

Systemic challenges resulting from climate change

(Education and Skills; Energy; Food; Agriculture and Water; Land Use and Oceans; Multi-Level Action; Nature; Relief, Recovery & Peace; Trade; Transport; Health).

 
One of the key objectives for this year's COP will be to resolve details around the implementation of carbon offset schemes as laid out in Article 6 of the Paris Agreement. Another key objective will be securing the necessary financing for the Loss & Damage Fund, which was agreed to last year at COP27 in Sharm El Sheikh, Egypt. 
This year also includes a global stocktake of how well individual countries are doing in meeting their commitments to reducing greenhouse gas emissions. The stocktake is a mechanism for assessing global progress towards achieving the emissions reduction goals as set out in the Paris Climate Accord. The current stocktake (which is also the first) began in 2021 in Glasgow at COP26 and is set to conclude this year at COP28. 
WHY THIS YEAR IS SO IMPORTANT
If the goal of limiting temperature rises to 1.5 degrees Celsius is to be achieved, carbon emissions must be cut by 43% from 2019 levels by 2030. That means cutting CO2 emissions from 2019 levels of roughly 33.2 gigatonnes per year to 18.9 gigatonnes per year by 2030. At current growth rates, by 2030 we will be emitting closer to 50 gigatonnes of CO2 per year. Reversing current trends is crucial if the planet is to avoid a worst-case scenario of a greater than 2 degrees Celsius increase in global temperatures.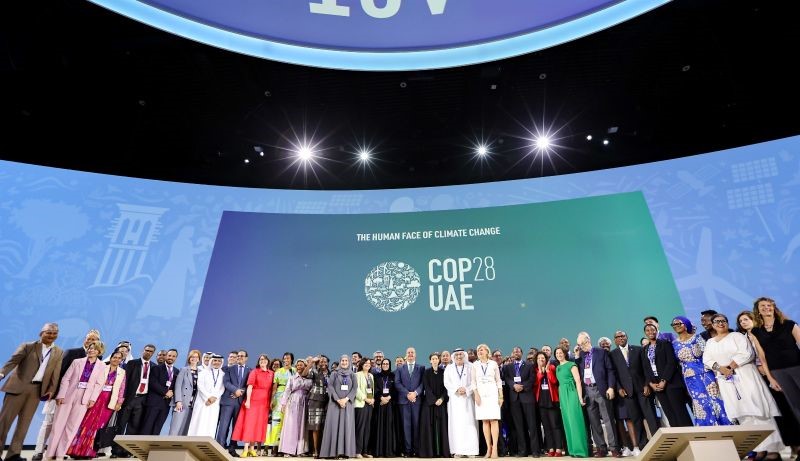 Country representatives during the endorsement of the UAE Declaration on Climate Health at COP28. Image source: cop28.com
CLIMATE CHANGE IN AFRICA HAS ARRIVED
Reducing carbon emissions and working towards a net-zero future are essential goals in order to ward off the worst effects of climate change. However, many of the impacts of a warming planet are already evident in the increasing climate disasters witnessed around the world over the past few years. Africa has been particularly hard hit. Of the 30 deadliest climate disasters recorded since record-keeping began in 1900, six have occurred since 2022. These include: 
Improvements in scientific techniques have made it possible to directly link any particular climate event to changes resulting from human-caused climate change. This new area of study is called attribution science. Since 2000, anthropogenic climate change has been directly linked by scientific attribution studies to more than 20 extreme weather events in Africa, including 13 droughts, seven floods, and two heat waves. 
COP28 AND THE AFRICAN AGENDA
Africa is represented at all of the COP proceedings by a group called the African Group of Negotiators, or the AGN, which is currently chaired by Zambia. The AGN speaks collectively on behalf of Africa, arguing for climate justice, a just energy transition, and adequate funding to help the continent deal with the impacts of a changing climate. While Africa is responsible for less than 5 percent of global greenhouse gas emissions, the continent is disproportionately impacted by the effects of climate change. Some of the areas that will be covered from a specifically African perspective during the scheduled COP proceedings include the following:
Greater use of

blended finance

to support sustainability initiatives in key sectors such as energy, agriculture, water, and sanitation. There are untapped resources available for sustainable development financing, but to date these resources are underutilised. What can be done to mobilise this capital?

 

The

Africa Green Industrialisation

event will be jointly hosted by the COP28 Presidency and the Government of Kenya. This event looks to highlight the implementation of the Nairobi Declaration and the UAE-led investment of $4.5 billion in the green industrialisation of Africa. The objective is to look for opportunities for green industrialisation, showcase successful renewable energy projects, and propel Africa towards a carbon-neutral future.

 

The

African carbon market story

is a Heads of State event that will launch Carbon Market Activation Plans for Ghana, Rwanda, Nigeria, Mozambique, and Malawi to develop carbon markets in these countries.

 
In addition to these events, a key area of discussion from an African perspective will be what it means to achieve a just energy transition. This is seen as an essential element in the ongoing economic development of Africa, allowing governments to lift people out of poverty and to provide electricity and reliable sources of energy for cooking. In practice, what this means is allowing for the continued exploitation of carbon-based sources of energy and for oil-producing states to continue to invest in oil exploration and extraction activities. Proponents of this approach say that it allows African economies to replicate the industrialisation process that allowed advanced economies to grow and prosper. Critics say it dangerously extends the timeline for achieving net-zero emissions targets and diverts investment away from renewables and other sustainable sources of growth.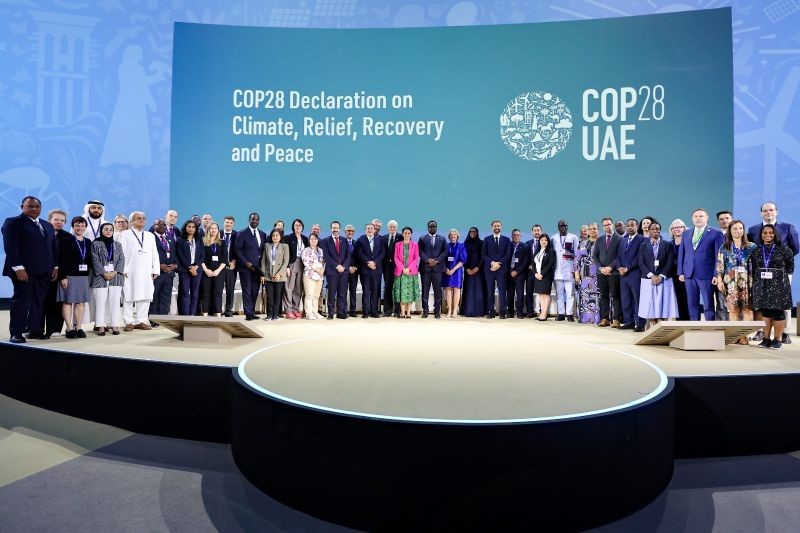 Endorsers of the COP28 UAE Declaration on Climate, Relief, Recovery, and Peace. Image Source: cop28.com
IN CONCLUSION: WHAT ALL THIS MEANS
Many world leaders have converged in Dubai with fresh reminders of the costs and impacts of climate change on their countries back home. African leaders will arrive to the talks with especially recent events in mind and will want to ensure that the countries most responsible for creating the climate crisis pay a fair share of the costs of helping those most affected deal with the impacts. 
Indeed, who foots the bill for what is probably the simplest summary of all the various discussions that will be taking place. Beyond paying for the costs of recovery, the mechanisms of financing the transition to a sustainable future will also be very much on the table for discussion. Whether there are disagreements over how to fund a just energy transition, financing the shift to a more sustainable industrialised future, or unlocking blended forms of financing to help pay for all of this, the question of who pays will no doubt dominate the talks. 
As the world continues to warm at an alarmingly rapid rate and as the very real impacts of climate change continue to disproportionately affect those least able to adapt, the imperative to find solutions—and to pay for them—gets greater every day.
About the Author.
Brent Barnette is a Director at ETK. He leads on our climate change agenda and in the development of service offerings to help clients pursue sustainable growth strategies, including the development of an African-focused ESG reporting framework. He writes on topics of climate change and economic growth and is passionate about creating solutions to address the problems caused by climate change in the global south.